401(k) / 403(b) Defined Contribution Plans
Experience Simplicity in a Complex WorldTM
Looking out for the well-being of your employees is what you do best. Providing effective ways for you to help your employees pursue their retirement saving and investment goals is what we do best. 401(k) ProsperityTM is committed to providing you and your employees with objective, timely, and actionable guidance across the full range of your defined contribution plan needs.
Real People...Real Answers for helping employees pursue their goals to retire on time with the money they need.
Our "no excuses" culture focuses on doing what's right by partnering with organizations that share values similar to ours. We seek to exceed your expectations by providing a high level of personalized care to you and your team members.
Our holistic approach helps you and your plan participants put a plan in place to pursue desired outcomes:
What do you want to accomplish?
For you
Your Company or organization, and
Your plan participants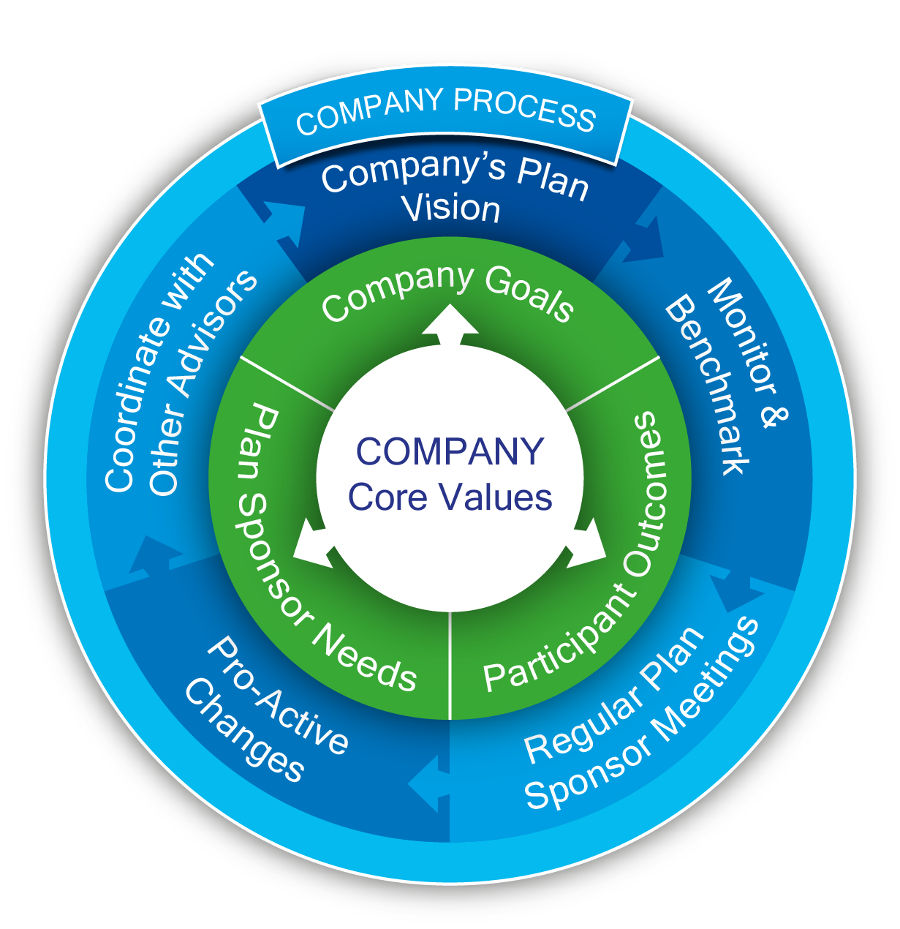 Benefit from a disciplined and defined process
The 401(k) ProsperityTM retirement plan process continually centers on your vision for the plan and your employees. You can expect our experienced team to:
Work with your other advisors to coordinate advice
Proactively monitor and benchmark your progress
Meet with you, your Investment Committee, and/or Board of Directors regularly
Provide customized reports based on your needs and preferences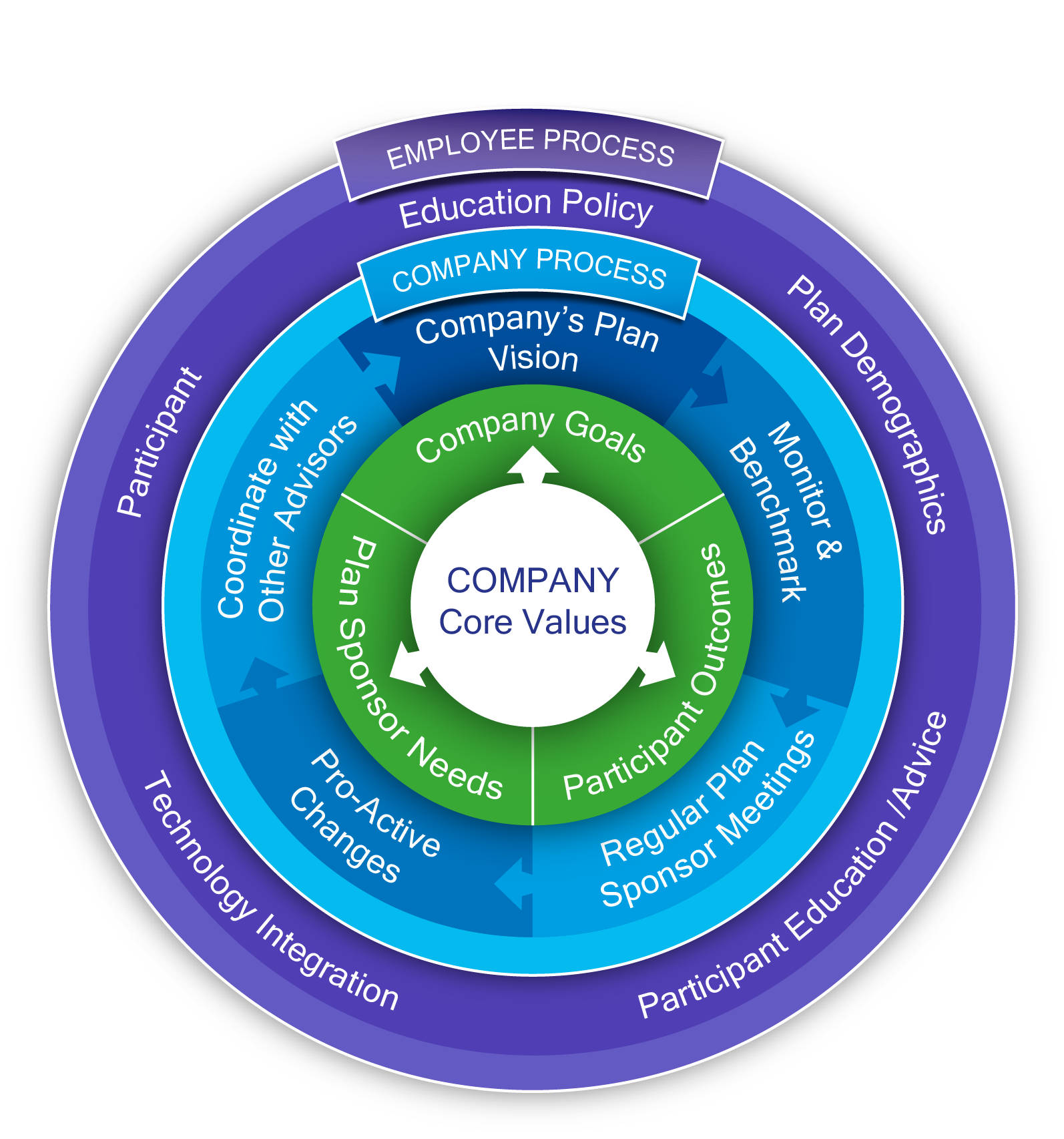 401(k) ProsperityTM makes it easy for your employees to obtain unbiased, timely, and actionable advice from our team of experienced, investment fiduciary advisors, either face-to-face, via phone, or through the latest virtual technologies. Your employees and plan participants enjoy these benefits and more:
Direct access to our team of experienced investment fiduciary advisors at all times
Advisor-managed portfolios
Personalized education, gap analysis, and automated solutions
Investment fiduciary advice and guidance
401(k) ProsperityTM works with you to develop a comprehensive Investment Policy Statement (IPS) aligned with your goals that reflects your organization's unique mission, vision, and mandate, and incorporates our team's collective insights, knowledge, and expertise.
As an independent firm, our experienced, investment fiduciary advisors:
Approach the markets with complete objectivity
Provide balanced, timely, and unbiased evaluations and recommendations
Offer capabilities and access beyond traditional investment strategies, including advisor managed portfolios
Protecting what matters
As independent, investment fiduciary advisors, our team helps to protect your organization's fiduciaries and avoid conflicts of interest by creating a system for managing risk in an ever changing regulatory environment, while maintaining:
Prudent Man investment standards
High ethical standards
Compliance with industry and corporate governance standards
Our experienced team includes advisors with the following industry designations and/or certifications:
Accredited Investment Fiduciary® (AIF®)
Professional Plan ConsultantTM (PPCTM)
Certified Financial PlannerTM (CFP®)
AICPA Personal Financial Specialist (PFS)
Certified Public Accountant (CPA)
Chartered Financial Analyst® (CFA®)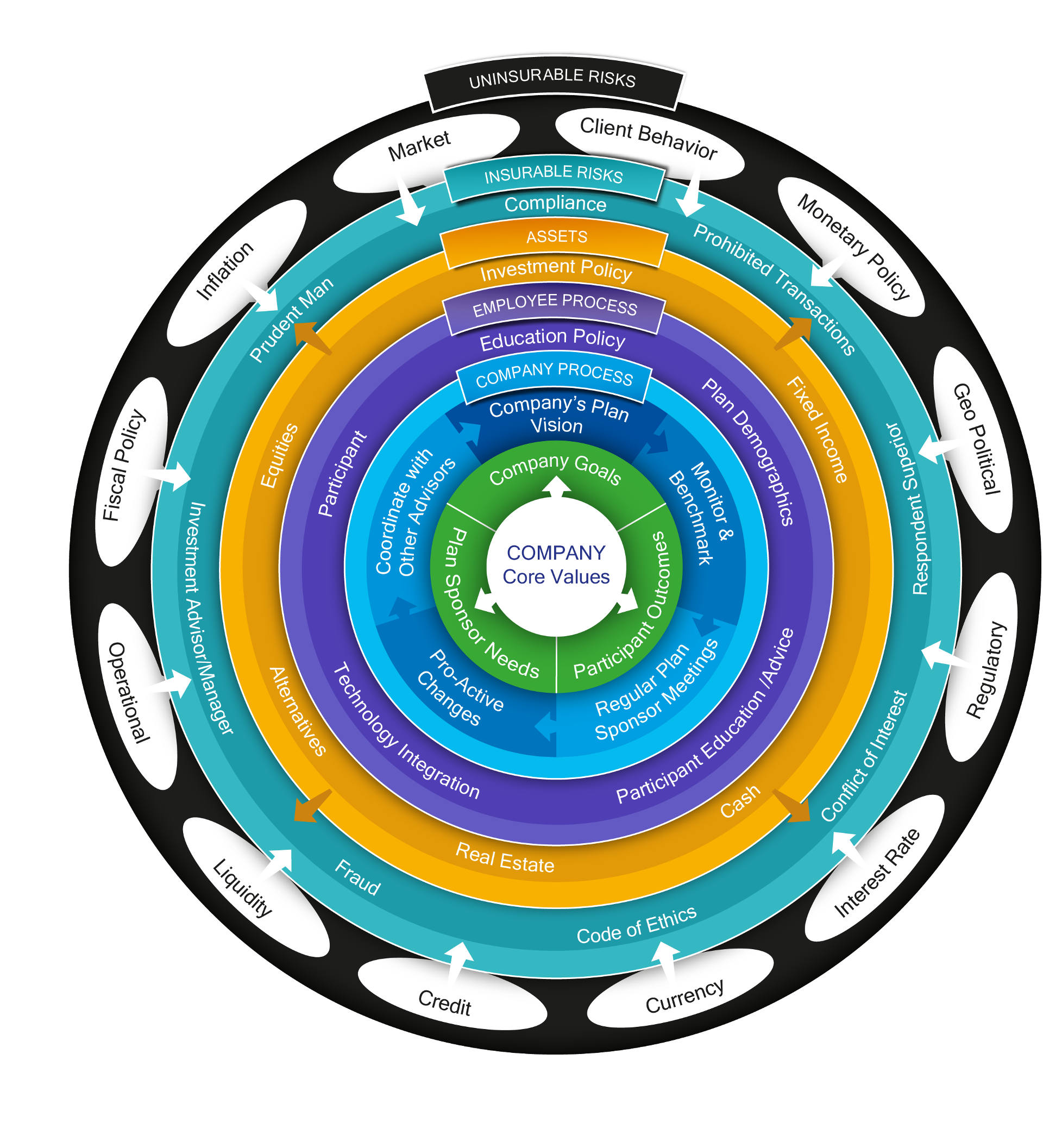 Putting It All Together
401(k) ProsperityTM considers both internal and external dependencies and risk factors that may impact your ability to pursue your organization's goals and objectives, including:
Fiscal and monetary policy
Financial markets
Credit markets
Liquidity
Geopolitical climate and events
Inflation and interest rate risk
Regulatory environment
Currency
Operating environment
Client behavior
For more than 22 years, 401(k) ProsperityTM has forged relationships with industry leaders, service innovators, and top institutional investment providers to help plan sponsors and their participants pursue the outcomes they seek.
401(k) ProsperityTM Retirement Plan Services
Fiduciary Support Services
Investment Policy Statement (IPS) development
Plan design to help improve plan outcomes
Participant education and advisory strategies
Vendor management relationship support and coordination
Investment Analysis and Monitoring
Performance measurement/reporting
Quantitative and qualitative analysis
Manager research/recommendations
Quarterly market commentary
Plan Analysis, Research and Benchmarking
Fee analysis, disclosure and benchmarking
Asset allocation and diversification analysis
Gap analysis
Project Engagements
Merger and acquisition plan due diligence assistance
Vendor search coordination and assistance
Plan sponsor support service analysis
Facilitated Services
CPA/Legal/Banking introductions
Third Party Administration introductions
This information was developed as a general guide to educate plan sponsors, but is not intended as authoritative guidance or tax or legal advice. Each plan has unique requirements, and you should consult your attorney or tax advisor for guidance on your specific situation. In no way does the advisor assure that, by using the information provided, the plan sponsor will be in compliance with ERISA regulations. Securities and Retirement Plan Consulting Program advisory services offered through LPL Financial, a Registered Investment Advisor, member FINRA/SIPC.
Want help? Let's talk.
We Don't Want to Brag But...