Foundations & Endowments
Experience Simplicity in a Complex WorldTM
Foundations and endowments are established to make a difference for the individuals, organizations, and communities they support on an ongoing basis. Therefore, it's not only essential that your foundation or endowment delivers on its responsibility to gather donations, but puts proper financial oversight in place to support the organization's legacy and help perpetuate it for decades to come.
Successful foundations and endowments recognize that obtaining the right help for managing the many internal and external forces that influence financial outcomes can be critical for families, institutions, and not-for-profit organizations seeking to expand the long-term impact of their philanthropic strategies.
The experienced, independent advisors at 401(k) ProsperityTM provide:
Dedicated expertise and resources required to develop a well-constructed and coordinated investment strateg
Unbiased, timely, and actionable advice to effectively anticipate and manage risks, and determine the right opportunities for your private/public foundation or endowment.
The 401(k) ProsperityTM team's holistic approach can help your foundation or endowment pursue its unique vision and mission with clarity and confidence: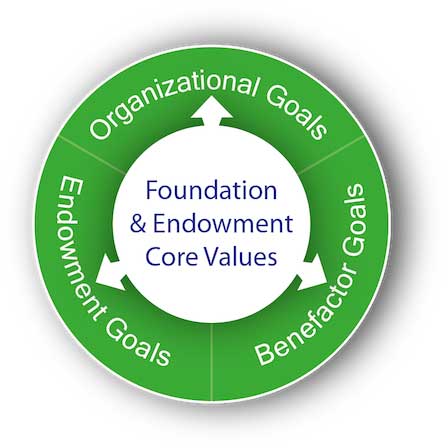 What do you want to accomplish?
Organizational goals
Benefactor goals
Endowment goals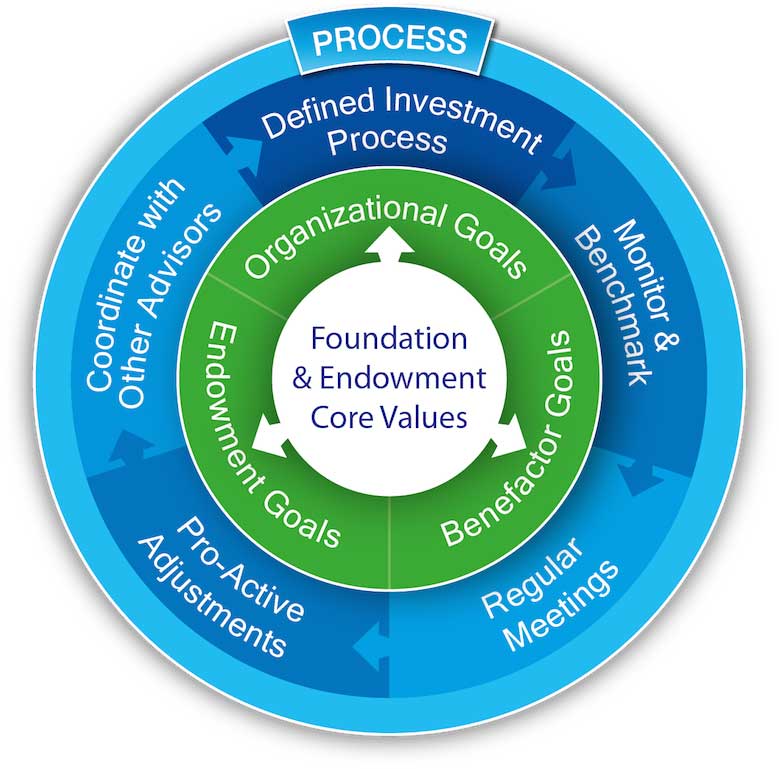 A disciplined and defined process
Once we have a clear understanding of your vision and mission, our trusted advisors bring their collective insight, knowledge, and experience to collaborating with you to develop an Investment Policy Statement (IPS) aligned with your goals that reflects your organization's unique mission, vision, and mandate.
We work with your other advisors to coordinate advice
Proactively monitor and benchmark your progress
Meet with you, your Investment Committee, and/or Board of Directors regularly
Provide customized reports based on your needs and preferences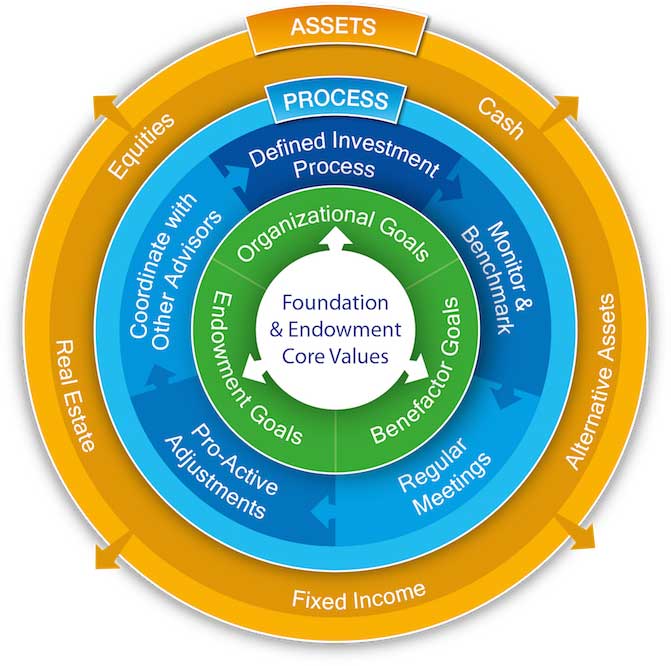 Prudent risk management
Our team is experienced in helping organizations of all sizes develop prudent risk management strategies that seek to balance the need for preservation, growth, and cash flow. As we continuously monitor your portfolio, we will recommend any adjustments required to further help manage risk and help strengthen the impact of your giving.
We manage your portfolio with a focus on:
Expected returns
Cash inflows and outflows
Risk parameters
Permitted investment classes
Asset allocation restrictions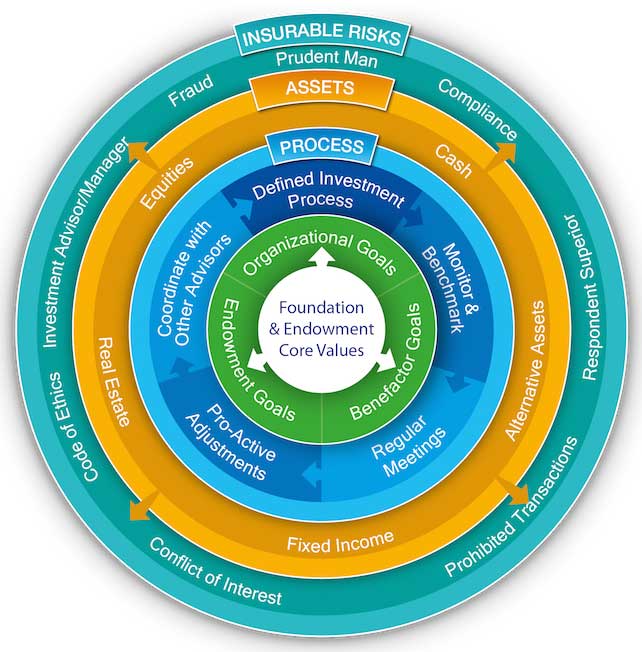 Protecting what matters
As independent investment advisors, our team helps to protect your organization's fiduciaries and avoid conflicts of interest by creating a system for managing risk while maintaining:
Prudent Man investment standards
High ethical standards
Compliance with industry and corporate governance standards
Our experienced team includes advisors with the following industry designations and/or certifications:
Accredited Investment Fiduciary® (AIF®)
Professional Plan ConsultantTM (PPCTM)
Certified Financial PlannerTM (CFP®)
AICPA Personal Financial Specialist (PFS)
Certified Public Accountant (CPA)
Chartered Financial Analyst® (CFA®)
Putting It All Together
401(k) ProsperityTM considers both internal and external dependencies and risk factors that may impact your investment portfolio or your ability to pursue the goals, vision, or mission of your foundation or endowment, including:
Fiscal and monetary policy
Financial markets
Credit markets
Geopolitical climate and events
Inflation and interest rate risk
Regulatory environment
Currency
Operating environment
For more than 22 years, Planned Financial Services has forged relationships with industry leaders, service innovators, and top institutional investment providers to help foundations, endowments, and not-for-profit organizations pursue their unique mission and vision. As an independent firm, our experienced team of wealth advisors:
Approach the markets with complete objectivity
Provide balanced and unbiased evaluations and recommendations
Offer capabilities and access beyond traditional strategies for managing risk
Work collaboratively to help capture the opportunities that are right for you
Services for Foundations & Endowments
Investment Policy Statement (IPS) development
Investment Management
Tax Strategies
Estate & Legacy Planning
Family CFO
Family Continuity - multigenerational planning
Investment Committee training and guidance
STAR® – celebrity financial management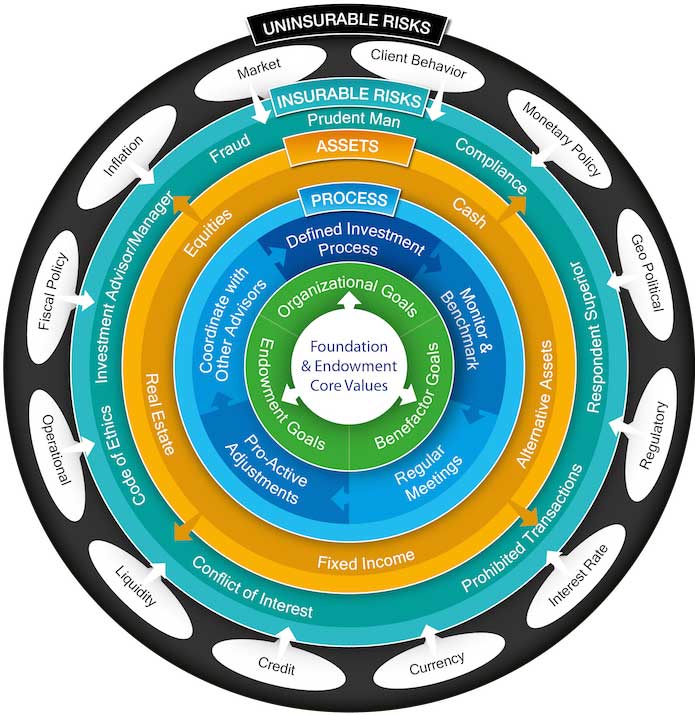 PFS Facilitated Services
CPA/Attorney/Banker introductions
Trust Administration introductions
Securities and advisory services offered through LPL Financial, a Registered Investment Advisor, member FINRA/SIPC.
Want help? Let's talk.
We Don't Want to Brag But...